replica Lindsey Adelman 14 Bulbs Agnes Chandelier ( black )
Original Designer or Manufacturer: Lindsey Adelman
Material: Metal Gold Plated & Frost Glass
Colours: Matte Gold
Dimensions: Length 151 cm Height 91cm Width 154cm
Height: Pole Length 86cm
Bulbs: 14 x 3W LED G9 Globe (included)
Price Guarantee: We'll Match It | Please Refer Policy
Trade and Commercial: Email Inquiry Welcome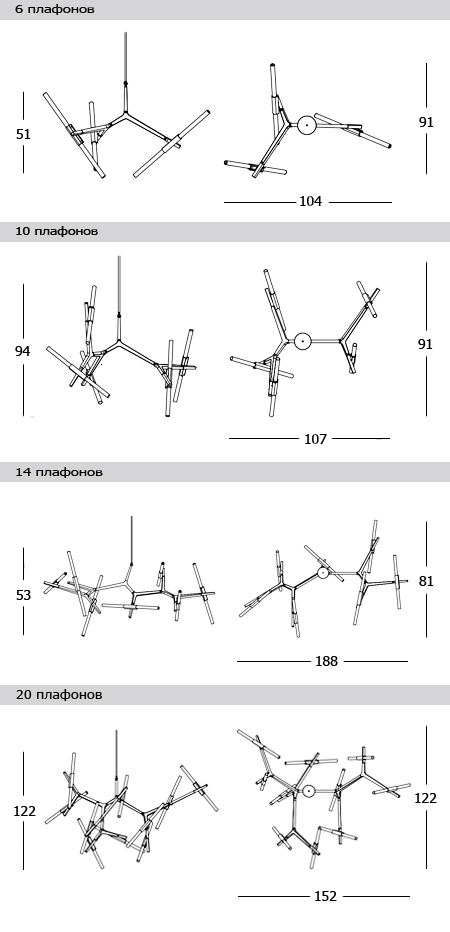 The lustrous 20 Bulbs Agnes Chandelier by Lindsey Adelman is incredibly unique. This replica designer chandelier will probably not be creating all-encompassing lighting throughout an entire room but it is sure to capture everyone's attention. The entire light is made up of metal and glass. The bars of Lindsey Adelman 20 Bulbs Agnes chandelier are of golden color and at the end of each gold bar is a glass tube which houses the LED light globe. Each of the gold bars can be adjusted to an angle suited to your interior. You can change its shape so it looks taller simply by moving the bar to point north and south or east and west if you prefer it looks boarder. Each of the glass bars will create spires of light to warm your home in the night and appear glamorous at all time to any visitor. For sure the combination of the yellow gold bars and the warm white of the light will surely start more than a few conversations. Other pre-order sizes available are 10 Bulbs, 14 Bulbs and 20 Bulbs. If you are unable to find certain sizes or colours of Replica Lindsey Adelman 20 Bulbs Agnes Chandelier or any other designer lighting please do send us an email via our online contact page.


Replica Lights are available online and all are based on original designer lighting. Our products such as Replicais not made or manufactured by, affiliated or associated with, the original manufacturers or designer.
Originally conceived as a candelabra, Agnes takes its inspiration from the fictional heroine of the same name, a worker in the world's oldest profession during the 1849 California Gold Rush. The modular system would allow Agnes easy setup in her makeshift "workspace." In this version, glowing glass tubes replace the candles. Articulated joints allow the glass to be arranged in a multitude of ways.