Replica Louis Poulsen PH Artichoke pendant lamp D48
Design by Poul Henningsen, 1958.
Dimensions
Small: 18.9"D X 18.4"H; 162.4" max height
Material(s)
steel, copper, metal, aluminum
Bulbs
Small: 1 X 200W 120V E26(medium base) A-23 incandescent (not included)
Considered a classical masterpiece, PH Artichoke is a 360-degree glare-free luminaire which gives distinct, unique illumination. Created by 72 leaves in 12 circular rows that shield the light source, and redirect and reflect the light onto the underlying leaves. The original PH Artichokes were designed for a restaurant in Copenhagen called the Langelinie Pavilion, where they still hang today.
THE PRODUCT
Replica of the Poul Henningsen Artichoke Lamp

Timeless design from 1958

Designed for Langelinie Pavillonen in Copenhagen

Available in three different colours

Other Poul Henningsen signature lamps include ThePoul Henningsen PH5 Lamp and The Poul Henningsen PH 3/2 Table Lamp

THE POUL HENNINGSEN ARTICHOKE PENDANT
The sculptural design of the Poul Henningsen Artichoke Lamp has been lovingly replicated by REPLICA - LIGHTS.COM with meticulous attention to detail. Each of the 72 aluminium leaves are individually cut, prepared, and mounted to ensure a perfect fit and flawless finish for every lamp. The positioning of the leaves diffuses light to prevent glare and create an atmospheric illumination. The Artichoke Lamp comes in a natural aluminium finish. It is available in four different sizes. Choose from the following different diameters: 45cm, 56cm, 72cm or 100cm, depending on the size of room in which you wish to hang the Poul Henningsen Artichoke Pendant Lamp. In the same style you also find The Poul Henningsen PH Snowball Lamp.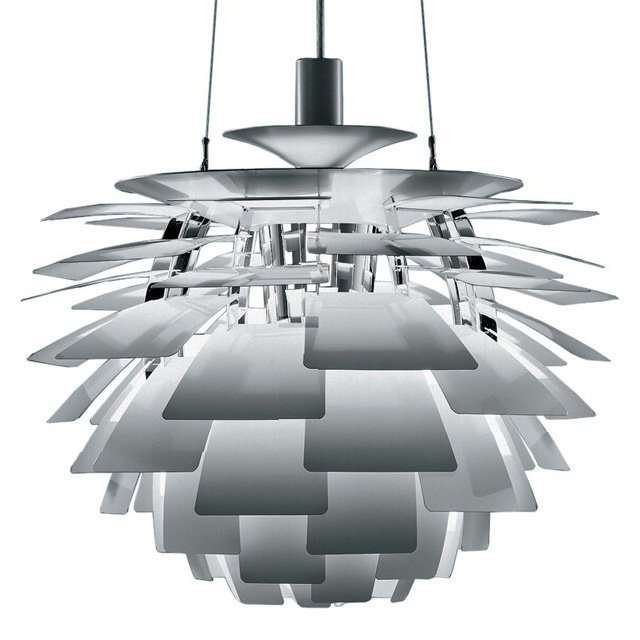 THE STORY BEHIND THE POUL HENNINGSEN ARTICHOKE PENDANT LAMP
Poul Henningsen designed the Artichoke pendant lamp in 1958 for the restaurant Langelinie Pavillonen in Copenhagen. It still hangs there today. The Poul Henningsen Artichoke Pendant Lamp has since received worldwide fame and is viewed internationally as an iconic design in lighting.
Ideas for your Poul Henningsen Artichoke Pendant Lamp
Our Poul Henningsen inspired Artichoke pendant lamp makes a stylish impression. The four different diameters lets you choose the right size for your room, while the variety of colours means you can easily match the existing décor. One single Artichoke works well in smaller rooms, while a circle or line of Artichokes looks stunning in larger spaces. Be inspired by these beautiful photos of the Artichoke through the ages.
Available in copper, stainless steel (brushed and lacquered) or white (wet-painted) finishes in four sizes ? small, medium, large or extra large. Leaves of die-cut copper, laser-cut stainless steel or die-cut steel. Top shade is white, spun steel. Frame is high-luster chrome-plated laser-cut steel. Suspension is high-luster chrome-plated spun aluminum. 12 foot suspension by 3 fine stainless steel aircraft cables. White ceiling canopy which mounts to 4" octagonal junction box. 12 foot long 3-conductor, 18 AWG PVC covered power cord (Black for copper version or white for Stainless steel and White versions).
UL Listed.