replica Lindsey Adelman 5 Branching Bubble Chandelier
Original Designer: Lindsey Adelman
Material: Aluminium
Colour: Gold Branching & Clear Glass
Dimensions: Vertical H112cm W92cm D71cm
Bulbs: 5 x E27 LED Compatible Globes | Not Included
Price Guarantee: We'll Match It | Refer Policy
Trade and Commercial: Email Inquiry Welcome
The Lindsey Adelman 5 Branching Bubble Chandelier consists of 5 glass bubbles on adjustable moveable aluminum arms that can not only cast enchanting bubbles of light, but will allow you adjust the placement of the bubbles to achieve the look you desire. It comes in various finishes including black and copper gold 'branch' as well as clear and smoke grey 'bubbles'. Current Bubble Designer Chandelier floor stock is vertical version with the combination of gold 'branch' and clear glass 'bubbles'. Other variation includes horizontal black 'branch' or smoke grey glass 'bubbles' with either 5, 7, 8, 9, 11, 13 branches and 'Burst'.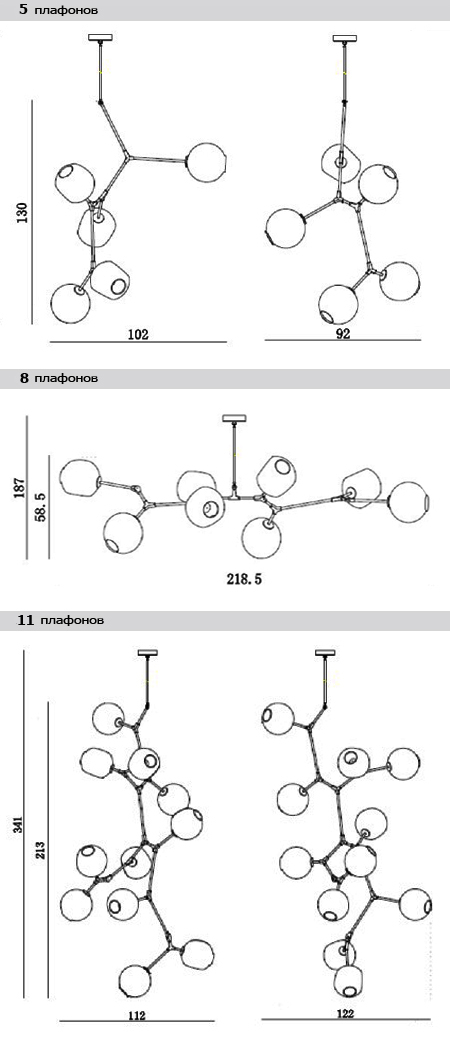 It also uses Edison E27 light globe and is compatible to any E27 LED globe to provide you with the ability to choose the light you wish for it to shine. This beautiful designer light will make an excellent addition to any home to alight any room. If you are looking for other sizes and series of this light, please send us an email inquiry via our contact page.
Replica Lights products are available online and all are based on original designer chandelier or lighting. Our products such as Replica Lindsey Adelman 5 Branching Bubble Chandeliers are not made or manufactured by, affiliated or associated with, the original manufacturers or designer.