replica Ingo Maurer Birdie Chandelier with Red Cables


Ingo Maurer Birdie Chandelier: Classic Edition with Red Electrical Wire. The Ingo Maurer Birdie Chandelier was designed by the luminary German designer Ingo Maurer. This is the classic Birdie Chandelier with Red curly electrical wires. Ingo Maurer's Birdie has 12 low-voltage light bulbs equipped with goose-feather wings. Tin plated and red curly wires bring an added spark to this unique piece. For the last four years we have had the larger version, "Birds Birds Birds" as a wonderful centerpiece in our showroom. It is a real show-stopper and receives the most attention. The Ingo Maurer Birdie Chandelier is also available with transparent/silver electrical wires, please check our other Ingo Maurer listings. Not suited for rooms with high humidity. We recommend the use of a dimmer, as it lengthens the durability of the light bulbs.





The Birdie Chandelier is a little brother of the exuberant "Birds Birds Birds" chandelier. The Ingo Maurer Birdie Chandelier is an irresistible chandelier and a signature piece in the Ingo Maurer collection. Ingo Maurer's iconic Birdie suspension takes the form of the traditional chandelier and uses the bulbs themselves as the diffusers. Wrapped in goose feathers, the bulb/diffusers become zoomorphic creatures which appear to be in flight. The transparency of the wires used to connect the culminating bulbs only adds to this incredible effect. A centerpiece which will fundamentally change the aesthetic of any room it occupies.


With 12 special halogen bulbs, each 10W, produced exclusively for Ingo Maurer GmbH, only for use in the Birds product family. Luminous flux: 1200 lumens, light efficiency: 10 lm/W, output: 120 kW/1000 Std. Mean life: 2000 h. EU energy class: approx. C. Socket E27. Built-in transformer in canopy.

Material: metal, feathers, 12 low-voltage bulbs
Overall Dimensions: 27.6" diameter x 39.4" height
Bulbs: 12 x 10W halogen, goose-feather wings
Bulbs Included: Yes
Cord Length: 3.3'
Certification: CE listed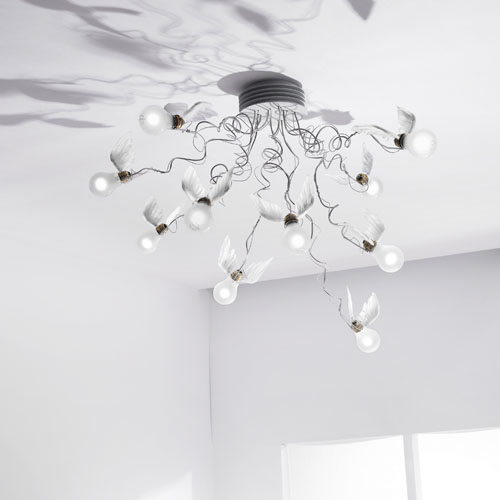 Quick, the lights are flying away! The Birdie's Nest Ceiling Lamp is a stunning unique modern piece from Ingo Maurer! Birdie's Nest, designed by Ingo Maurer, is a visually stunning & brilliant conversation piece. Each light bulb is attached to its own set of goose feather wings, each in its own bid to escape.
Metal, goose-feather wings.Ten low-voltage bulbs (not halogen). 230/125/24 volts, 150 watts (10 x 15 watts). Canopy with two built-in transformers. Transparent cables. Complete with bulbs plus 2 spares. Birdie's Nest is designed for rooms with lower ceilings.
Size: 19.7"H, 20" up to 37.4"DIA
Material: metal, goose-feather wings
Light Bulb: 10 x 10W halogen
Bulbs included: Yes!