Replica BOCCI 28.7 chandelier
Replica by Omer Arbel.
Made in Vancouver, Canada by Bocci.
Bocci 28.7 was originally designed by Omer Arbel and is part of Bocci 28 series. Bocci 28 series glass ball pendants are designed to cluster in hexagonal shapes which nestle into each other to create patterns as dictated by the needs of the interior. They may also be clustered or composed in an ambient manner similar to their distant cousins the Bocci 14 series.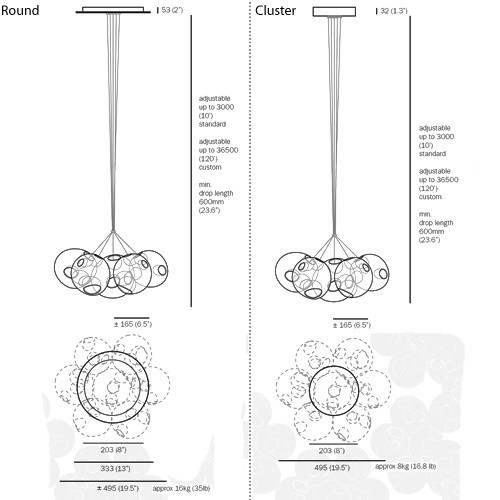 Our current LED replica series floor stocks includes Bocci 28.1, Bocci 28.3, Bocci 28.7 and Bocci 28.19. Other Bocci Series includes Bocci 14.1, Bocci 14.3, Bocci 14.5, Bocci 14.7,Bocci 14.10, Bocci 14.14 and Bocci 14s wall lamp. All other version of Bocci Lighting also available upon request. If you are looking for other sizes or colours of Bocci and any other designer chandelier, please send us an email inquiry via our online contact page.

Original Designer: Omer Arbel for Bocci
Material: Glass, Chrome, Metal
Colours: Clear
Dimensions: Shade Ф15cm Ceiling Cap Ф33cm
Height: Cord Max Length 200cm
Light Bulbs: 7 x Max 2W LED Globes Included
Price Guarantee: We'll Match it | Refer Policy
Trade & Commercial: Email Inquiry Welcome

Replica Lights designer lighting such as Replica Bocci 28.22 LED by Omer Arbel is based on original piece and is not made or manufactured by, affiliated or associated with, the original manufacturers or designer.
28 series is an exploration of fabrication process which is part of creative director, Omer Arbel's, quest for specificity in manufacturing. Instead of designing form itself, the intent for the 28 series was to design a system that produces form. Arbel developed a method that has loose parameters built into it, which produces a different shape in every iteration of the fabrication procedure.
Dimensions
6.5"D (dimensions will vary slightly); 19.5" overall diameter

Round Canopy: 13"D X 2"H; 35 lb

Cluster Canopy: 8"D X 1.3"H ; 16.8lb

Wire length: 10 feet

Minimum drop length: 23.6"H
Lamp Type
XENON, HALOGEN, LED
Bulbs
Xenon: 7 X 20W 12V bi-pin xenon lamp (included)

LED: 7 X 1.8W LED array, 2900K bulbs (included) (not dimmable)