Replica BOCCI 14.14 pendant chandelier
Designer: Omer Arbel for Bocci
Material: Glass, Aluminium & Acrylic
Colours: Clear Transparent Glass
Dimensions: Ф12cm Glass Ball x 10
Height: Cord Max 300cm
Bulbs: 14 x 1W LED Globes Included
Price Guarantee: We'll Match It | Refer FAQ & Policy
Trade and Commercial: Email Inquiry Welcome
Bocci Lights 14.14 LED Suspension Glass Pendant is designed by Omer Arbel Omer Arbel is the winner of a 2007 Red Dot Design Award. The light interacts with the handcrafted cast glass pendants to make a visually rich halo of light. Replica Lights Bocci 14 premium series is the faithful reproduction of its original design.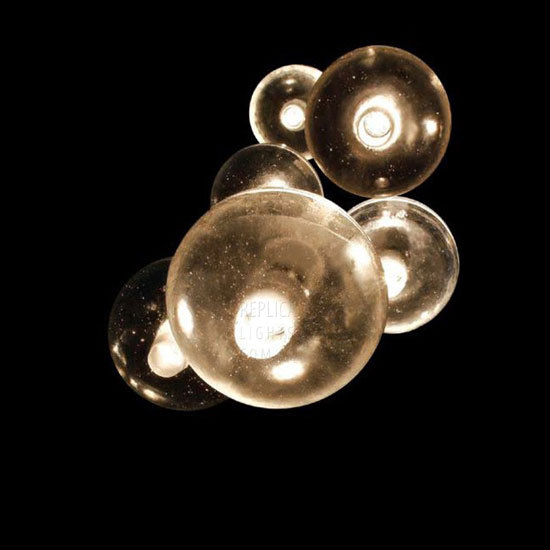 Each glass ball is polished and it has smooth edges all round and curved naturally. This replica designer Bocci glass pendant lamp is great for cafe lighting, restaurant lighting, and hotel lighting or even as bedside pendant lamp. Our current Bocci LED series includes Bocci one, three, five, seven, ten and fourteen ball as well as Bocci 14s wall lamp. All other version of Replica Bocci Lighting also available upon request. If you are looking for other sizes or colours or any other designer chandelier, please do get in touch with us via our online contact page.
Replica Lights designer lighting such as Replica Bocci Lights 14.14 LED Glass Pendant Lights are not original pieces and NOT made or manufactured by, affiliated or associated with, the original manufacturers, brands or designers.
Design by Omer Arbel.
Made in Vancouver, Canada by Bocci.
The 14.14 is a chandelier comprised of 14 cast glass pendants configured with a rectangular or round canopy. Each individual pendant is an articulated, seamed, cast glass sphere with a frosted cylindrical void which houses a 10 watt xenon or halogen lamp. Unlike most contemporary lighting, the 14 Series pendants are visually quite subtle in and of themselves - like many tiny candles encased in floating spheres of water. The light interacts with the imperfections and bubbles of the cast glass to make a visually rich halo of light. Cast glass is an organic process - imperfect by nature - so each piece produced is unique.
Dimensions
Sphere: 4" Diameter

Round Canopy: 20" D (bottom rim) 15" D (top rim)

Rectangle Canopy: 33.5" L X 11.2" W
Material(s)
cast glass, blown borosilicate glass
Lamp Type
XENON, HALOGEN, LED
Bulbs
Xenon: 14 X 10W 12V bi-pin xenon lamps (included)

LED: 14 X 1.8W LED array, 2900K lamp (included) (not dimmable)